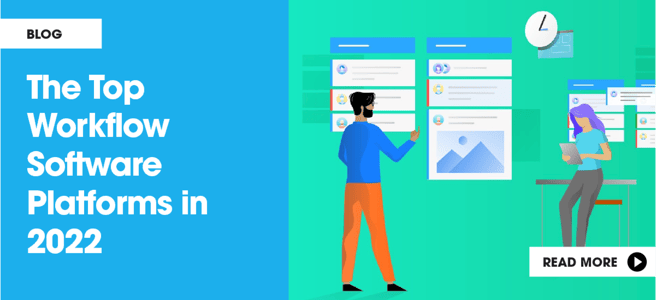 There have never been so many technology providers offering to transform your business. In Chiefmartec's 2020 MarTech super graphic there were over 8,000 vendors displayed and over 100 of these were selling 'Projects and Workflow' management technology. But what exactly is 'Workflow Software'? What features should you look for in a workflow management solution? And, most importantly, what are the top vendors in this area in 2022?
---
Table of Contents
• Workflow Software – What exactly is it?
• How to choose the best workflow software?
• The top 6 best workflow software platforms of 2022 (in no particular order):
---
• Workflow software – What exactly is it?
In business speak, workflow management software ensures that projects, data and assets through the necessary cycles, and pull in the stakeholders required, to ensure that work is completed in a timely manner.
Companies use workflow technology to configure their work environment, enable instant access to projects and performance metrics, and to streamline and automate processes. This can help improve speed-to-market, increase productivity, and reduce rounds of revision which saves time and money!
---
• How to choose the best workflow software?
When researching technology suppliers for workflow management it can be difficult to know where to start.
It's near impossible to properly evaluate so many technologies but we can help make your research process that bit more effective by introducing you to the top workflow management software vendors available on the market right now.
Our analysis goes further than many by providing you with a comprehensive evaluation of each workflow software platform under five key categories:
User Interface
Usability
Permissions
Integrations
Customization
These five categories are critical to analyze when it comes to considering new workflow software and will help you to easily narrow down your top choices fast. Believe it or not, it doesn't have to be a mammoth challenge to find the right workflow solution!
---
• The top 6 best workflow software platforms of 2022
• Kissflow - Best for non-technical users
Kissflow is a user-friendly platform that brands itself as a digital workspace. It's a simple workflow management and BPM software that uses the Google App engine to offer its Software as a Service. The platform comprises of dozens of workflow applications that can be customized or used as a template to build new applications.
‣ User Interface
The user interface is comfortable, clear, and easy to use. With a generous amount of white space and clear labelling you won't get lost within the Kissflow tool. Most options for the user depend on dropdown options that can be created and maintained by the client. The left-hand side of the app categorizes tasks and projects into viewable stages while the top nav focuses on the various actions needed to progress a project.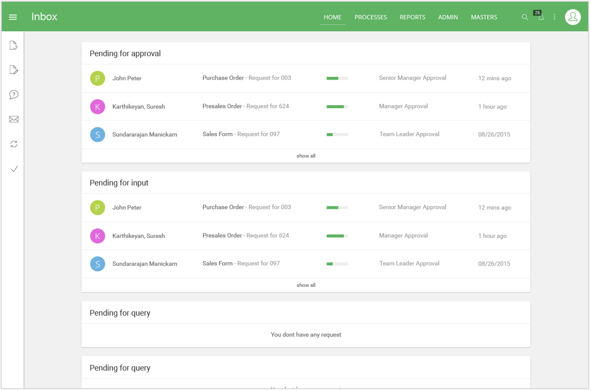 Credit: Trust Radius
‣ Usability
While the Kissflow platform looks tidy and accessible there have been concerns about the feasibility of creating more advanced workflows and processes. The user shouldn't encounter problems if they stick rigidly to the process laid out by Kissflow but some users have encountered issues when trying to create custom workflows, automate processes, an overstep decisions.
‣ Permissions
Like most workflow vendors, Kissflow allows you to customize what team members can view and edit based on their roles. An added benefit of Kissflow permissions management is that updating an assignment in the workflow doesn't break it or disturb historical requests. According to some users, it can take more effort than anticipated to set permissions.
‣ Integrations
While it may need 'tech savvy' folk to set up the API, Kissflow lets you automatically push, pull, and schedule data transfers from internal and third-party tools. There are also useful established integrations with Google Sheets and Google Calendar where changes in events or amendments to files will amend workflows automatically in Kissflow.
‣ Customization
Kissflow is generally a customizable platform wherein users can easily change the interface appearance, modify notifications, and build custom reports. Advanced customization is not yet facilitated by Kissflow though, as UI behavior is not modifiable.
---
• Pipefy - Best for workflow templates
Pipefy is a business process management solution that allows users to automate processes with low or no coding. It offers a range of customizable workflow templates to help streamline and speed-up company operations. It is suited to the needs of IT, Finance, Sales and HR teams.
‣ User Interface
Pipefy has a simple and clean interface that is easy to understand. It requires little training or experience to get up and running on the platform. Pipefy uses Kanban boards to visualize processes and manage tasks. 'Pipes' or processes are initiated through simple forms.
The Kanban view can be limiting for the needs of certain teams who prefer to have the option to switch between Kanban, list and Gantt Chart views.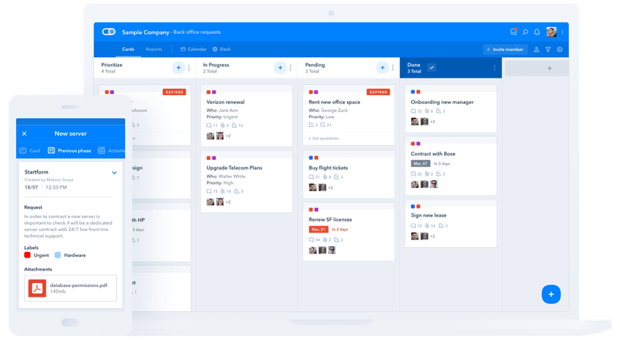 Credit: Software Advice
‣ Usability
Pipefy's workflow templates allow users to build processes fast with no-coding. Templates range from customer onboarding to purchases processes and sales pipelines. Pipefy also enables you to build simple processes from scratch quickly with the use of forms and cards.
Reporting and analytics can be restrictive with Pipefy as there are limited dashboard views and the built-in reporting feature doesn't let you report on connected database records. Pipefy doesn't support document proofing and mark-up.
‣ Permissions
Permission levels or roles in Pipefy are only available for companies in the Business or Enterprise plans. Pipefy offers three different types of user roles: Administrator, Member and Guest. Additionally, at a 'Pipe' or workflow level it provides five different pre-defined permission levels: Read only, Restricted view, Start form only, Pipe member and Pipe admin.
‣ Integrations
Pipefy offers a range of integrations through Zapier including Zendesk, Quickbooks, Hubspot, Intercom and MailChimp. It also has API integrations to connect with ERP's and other in-house financial systems.
‣ Customization
Pipefy offers a variety of automations and plug and play customizable workflow templates. It is relatively easy to change and add to processes as your company scales. However, if you need to automate complex process which require advanced routing or conditional paths, then Pipefy is probably not your best option. It is best suited to support linear processes. Also, it is hard to achieve a truly customized dashboard on Pipefy without relying on third party apps.
---
• Screendragon - Best all-round flexible and integrated workflow management software
Screendragon is a leading workflow software platform that manages to combine powerful functionality with a user-friendly interface. It is one of the most configurable platforms on the market enabling users to customize UX, forms, workflows, dashboards, reports and more to a very advanced level.
Screendragon is used to power critical processes at Fortune 500 companies and global organizations like The International Olympic Committee, Kellogg's, BP and Clorox. Its workflows meet the highest data security standards and can be scaled to thousands of users across the globe. Screendragon workflows integrate with all aspects of Screendragon's larger work management solution including project management, SOW planning, resource planning and forecasting, brand management, and budget management, for a seamless work environment.
‣ User Interface
Screendragon prides itself in having one of the most user-friendly and inspiring work management platforms on the market. Despite its powerful functionality, design thinking takes center stage for Screendragon. It offers a custom branded UI where users can control the look and feel of the solution – a major game changer for company adoption rates.
Screendragon supports multiple workstyles including Kanban Boards, Gantt Charts and List views. Deployment is quick and hassle-free.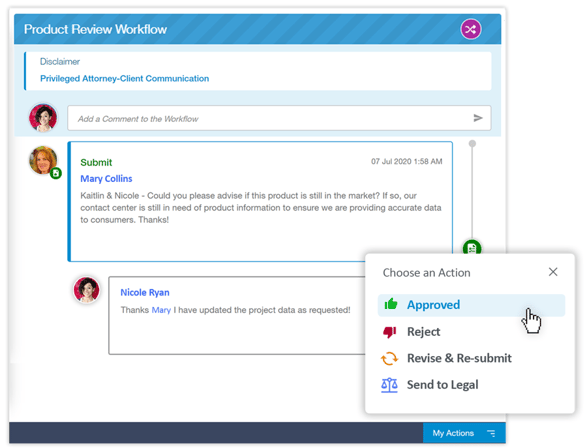 Credit: Screendragon
‣ Usability
Screendragon has a visual drag-and-drop workflow designer to build workflows easily with no/low code. It supports the simple to the very sophisticated workflow and provides users with a high level of flexibility to make changes to workflows as processes grow. Also, users can leverage pre-built workflow templates to automate processes even faster.
Screendragon supports a range of workflows including asset approval workflows, claims approval workflows and brand compliance workflows. Features include custom forms, advanced routing, conditional paths, multiple dependency options, asset preview and mark-up, real-time collaboration, custom analytics dashboards and reporting and a lot more. Screendragon has the capabilities to support very robust and sophisticated workflows without hindering performance levels.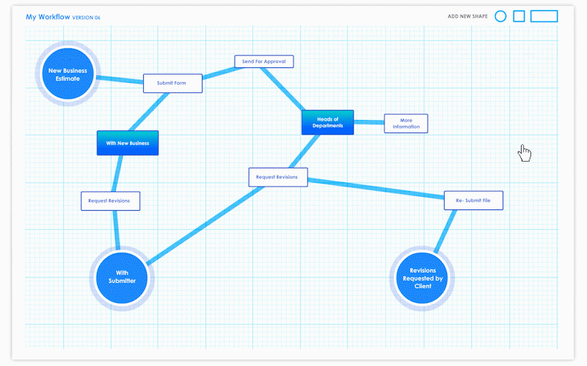 ‣ Permissions
Screendragon offers very advanced permission levels at a system level as well as across processes and projects. Administrators can decide at a granular level exactly who sees what and when, ensuring full control over processes.
The world's No.1 global sporting organization, The International Olympic Committee (IOC), relies on these advanced permission levels to securely and effectively manage marketing requests from their partners as part of their Screendragon asset approval workflow solution. Find out more about the IOC workflow solution here.
‣ Integrations
Screendragon provides deep integrations with almost every top enterprise system on the market today, and the road map is filled with more to come. Integrations include Office365, Google Drive, Jira, SAP, MS Dynamics, PeopleSoft, Trello, Slack and many more.
It also offers an open API for custom integrations. Additionally, through Zapier, Screendragon can offer customers a "self-service" integration process allowing them to connect with thousands of more apps to help manage their work the way they want to.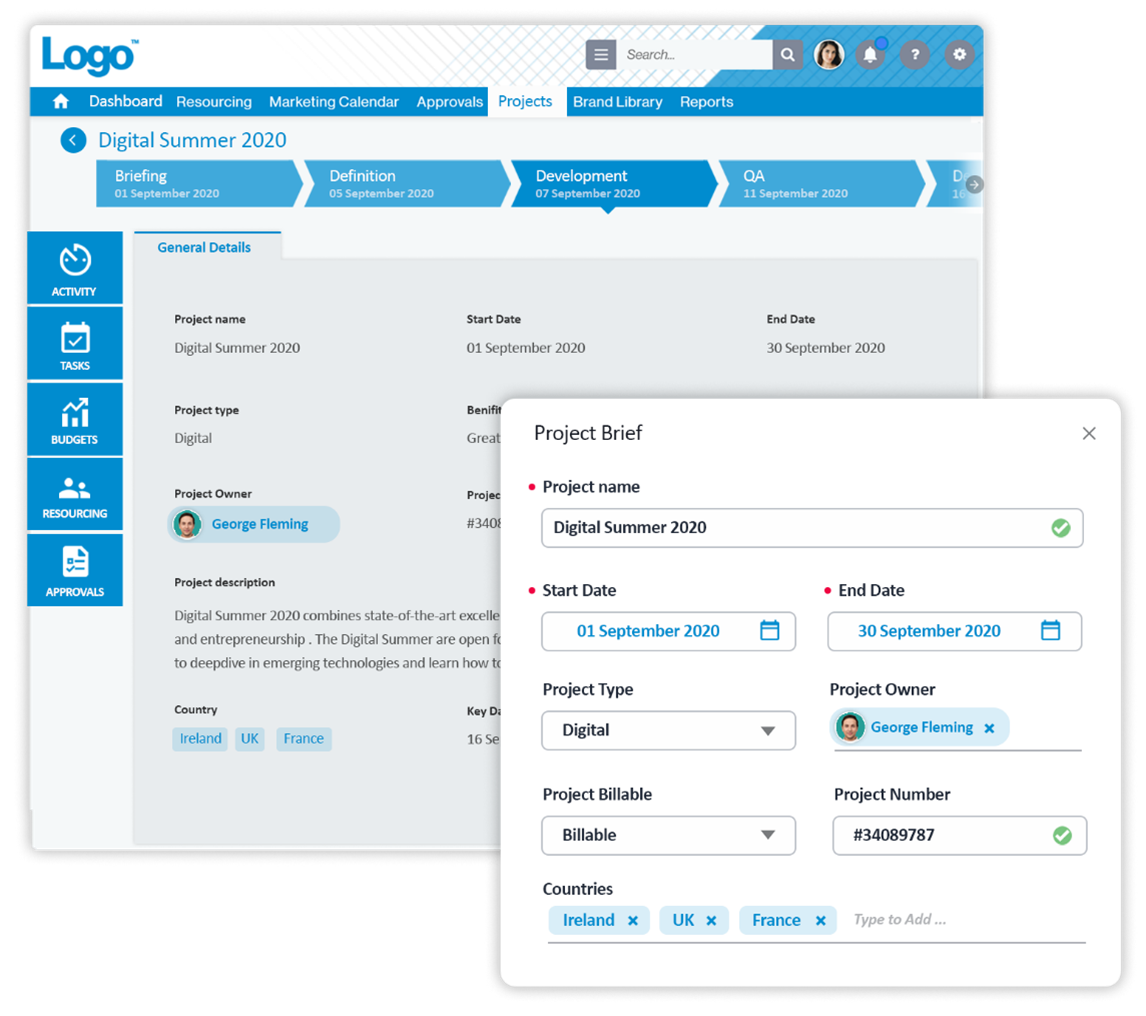 ‣ Customization
Screendragon is a highly configurable and flexible workflow software and its difficult for any competitor to match it in this regard. It offers advanced customization for UX, forms, workflows, dashboards, permissions and reporting.
For workflows, users can apply their own language or custom methodology to workflow actions like decision-tree actions and email notification templates. For forms, users can customize form fields, language and layout to meet specific use cases. Dashboards can be tailored to meet the needs of different user groups and as mentioned previously, access controls and permission levels can be customized to a very granular level to ensure the right people are involved at the right time in a process or that they see the right information.
---
• Nintex - Best drag-and-drop workflow builder
Nintex is an end-to-end process management and workflow automation software solution. It helps businesses to automate and optimize their processes easily with low code. Nintex is suited to HR teams, sales teams, finance departments, operations, and other teams within an organization. Nintex has recently expanded its tool set to include process mapping and RPA.
‣ User Interface
Nintex has a visual interface that is easy to follow. Little IT expertise is required to build workflows on Nintex and as a result deployment is usually pretty quick. Nintex doesn't offer the option of custom branding for its interface.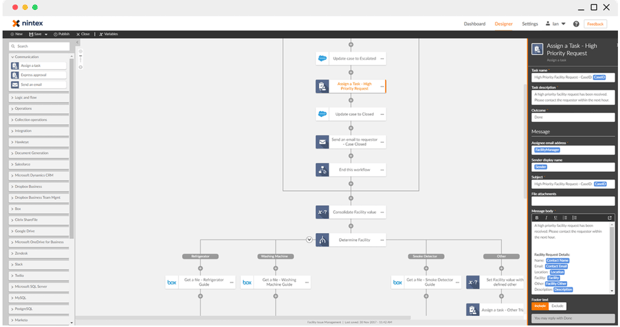 Credit: Nintex
‣ Usability
Nintex uses drag-and-drop functionality to build both workflows and forms. It is relatively easy and quick to create simple forms, however, more customized forms can require a bit more manual work/developer knowledge to build and modify. Nintex is a favourite of SharePoint users due its tight integration with the Office365 tool. The integration adds greater functionality and customization to SharePoint.
Its simplicity of use, means it can be challenging to build and manage very complex processes on Nintex.
‣ Permissions
Nintex has a range of permissions to suit different business needs. Nintex viewing permissions can restrict access to certain process groups and the processes within them. For users working on SharePoint, it can be tricky to sync permission settings between SharePoint and Nintex.
‣ Integrations
Nintex offers integrations with SharePoint, Office365, Adobe, Salesforce and Box. Additionally, Nintex Xtensions gives users the tools to build custom connectors to a wide array of apps using Open APIs.
‣ Customization
Nintex offers customization for forms, workflows and pre-built analytics dashboards. There is limited flexibility to modify workflows once built so Nintex can be challenging if processes need to be changed or added to down the road.
---
• Smartsheet - Best for Microsoft Excel users
Smartsheet is a project management and collaboration tool with workflow automation capabilities. It is broadly used across organizations to assign tasks, track project progress, manage calendars, and share documents. Smartsheet automation is a relatively new feature to Smartsheet, it allows users to automate processes fast without the help from IT.
‣ User Interface
Smartsheet has a tidy interface presented in a spreadsheet format in the middle of the screen. The user interface is like Microsoft Excel as smartsheets are essentially "smarter spreadsheets." A classic style toolbar at the top has formatting buttons plus options for changing the view. Sliders enable you to modify the width of the windows to customize your view and a left side panel lets you see all the sheets you've created or been assigned.
The simple user interface makes it easy for anybody to learn it, assuming everyone has some level of Microsoft Excel experience! The tool's design is clean and professional, but some have labelled it as 'boring' and lacking in modern presentation.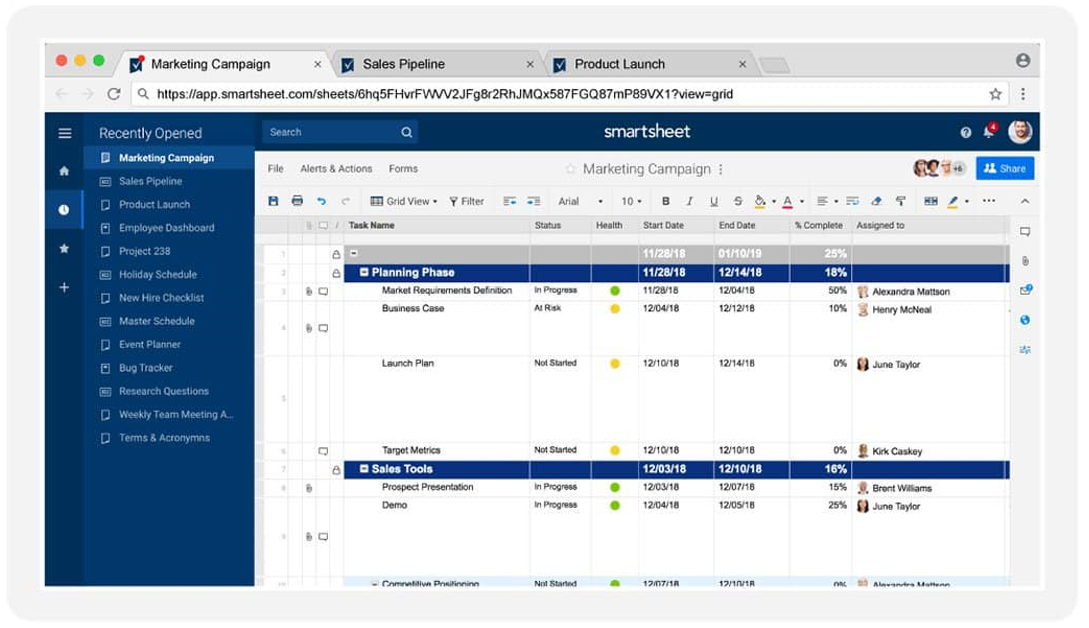 Credit: Smartsheet
‣ Usability
The Smartsheet platform is easy to set up and users can get started right away. Many first-time users migrate from Excel sheets to Smartsheet so the spreadsheet layout is deemed easy to use and intuitive.
Users who gave Smartsheet's UX a negative review said that the interface can be clunky. They complained about the app's occasional slow performance, downtimes, and glitches and that advanced features are buried in menus.
‣ Permissions
Users create sheets and can then decide who can collaborate and what level of access they can have (edit or view permissions). A 'user' requires a Smartsheet license but collaborators have free access.
Smartsheet is generous in the access it gives 'unlicensed users'. Without counting towards the limit of the account, unlicensed users can be Viewers (read-only), Editors (edit cell data), or Admins (manage the sheet).
‣ Integrations
Smartsheet is equipped with 49 prebuilt integrations to several leading third-party apps, including G Suite, Slack, Outlook, Microsoft teams, and Zapier. There's also an app store to add functionality for more established apps, and Zapier can be used to connect Smartsheet to lesser known apps via an API.
‣ Customization
Like most workflow vendors, there are elements of the Smartsheet platform that can be customized. These include forms, reports and visual dashboards and an app store wherein templates can be chosen and modified. Some users have complained that Smartsheet's customization capabilities are basic and that they could not fit Smartsheet into their way of working. Advanced customization is not available for Smartsheet users. So, if you are looking for a more robust alternative to Smartsheet, it is worth comparing it to Screendragon. This on-demand webinar, Screendragon vs Smartsheet, offers a detailed look at how the two solutions differ.
---
• Workfront - Best for enterprise teams
Workfront is a web-based platform for enterprise work management. Its workflow capabilities enable project managers to manage and control workflows in real time enabling streamlining of complex processes through customization and automation.
‣ User Interface
Like its competitors, most of Workfront's activities originate in the customizable dashboard. Task management, work revisions and collaboration are all accessed quickly from the dashboard and many users have lauded the ability to create shortcuts to certain reports and actions. Accessing important workflow management screens will take very little time as soon as you know where shortcuts are located.
While many of Workfront's features have evolved over the years, the interface hasn't changed dramatically. As a result, some users have described the grey and white desktop interface as being a little 'dated'.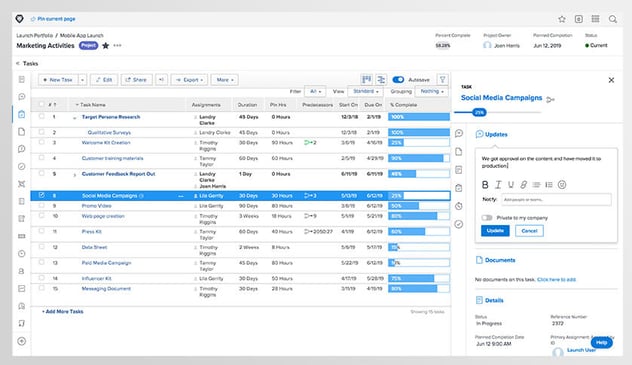 Credit: Workfront
‣ Usability
Workfront is a moderately intuitive app which can be discovered through practice or by digesting the support documentation. Sometimes it's necessary to scroll through menus to find what you're looking for which can make it difficult for the average user to find a given feature.
Some complaints about Workfront's UX refers to the lack of imagination of the interface and the possibility that it's too 'developer driven' and other users have been irked by the "Work On It" button not being reportable or changing the status of the task to "In Progress" as users would expect.
‣ Permissions
Workfront enables project managers to define roles and allocate access based on permissions. In addition, each object (task, portfolio, project etc.) can have its own permission level so that only approved users can access it.
Advanced project managers have lamented the inability to customize the interface and display based on role as many features many are not relevant to a basic user or approver. There have also been criticisms regarding the inability to introduce permissions on forms.
‣ Integrations
Workfront offers out-of-the-box integrations with Microsoft Outlook and file sharing platforms like Dropbox, Google Drive, Google Docs, SharePoint and Box. Workfront has also received positive reviews managing integrations via an API for things such as project expenses from an ERP.
One user on G2 crowd mentioned a regular connection failure between Workfront and the Workfront DAM which meant he needed to take extra steps to push assets from one place to the other.
‣ Customization
Workfront can be customized at a basic level wherein reports, workflows, and the dashboard can be modified to suit your company's work management needs. Regarding communications, Workfront has features to customize notifications so that when various events are triggered, you can configure emails and alerts to keep relevant stakeholders informed.
At an advanced level, Workfront customization can be limited and almost always requires added costs. The inability to customize forms has long been Workfront's biggest critic and means that some users have gravitated towards competitors that have offered custom and advanced forms.
Workfront and Screendragon are often compared when it comes to robust workflow management solutions. You can see exactly how they compare and differ on this on-demand webinar: Screendragon vs Workfront.