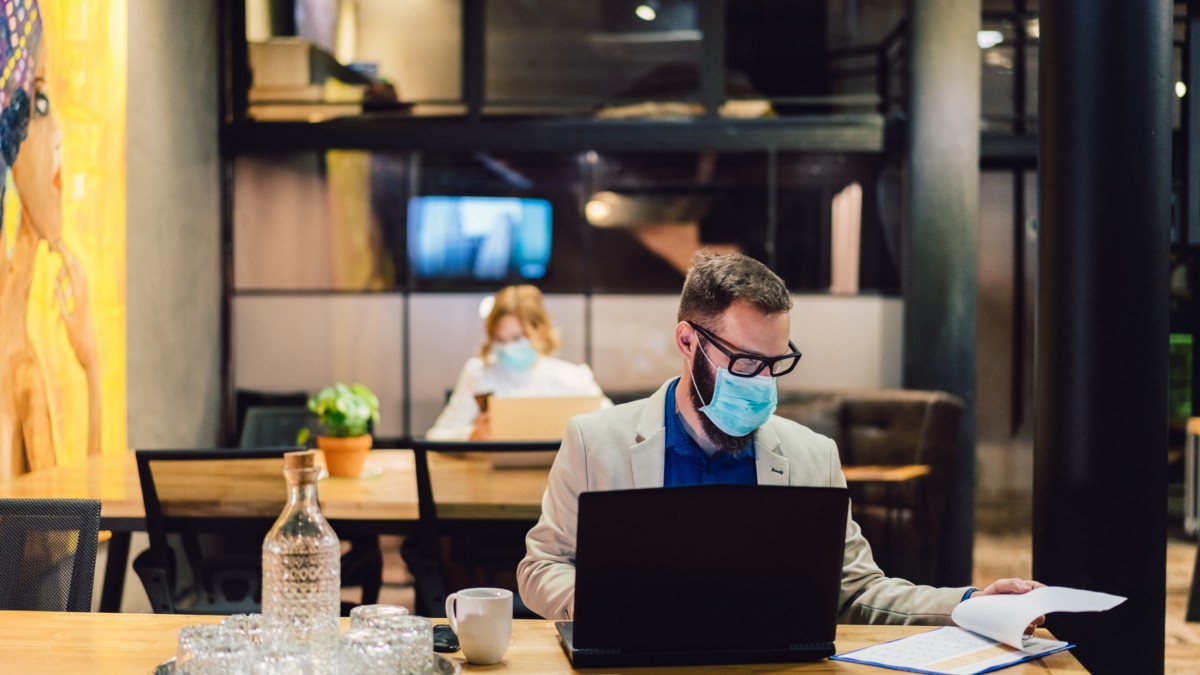 Like most business functions, marketing and creatives have had a difficult year. The marketing budget is often seen as being more discretionary than others, so the effects of the global pandemic were felt early by marketing teams with news of budget cuts and redundancies causing shockwaves through the industry.
Many marketers would have feared for the future of their discipline but the business world rallied and marketers reminded us of their worth by adapting well to unprecedented challenges, getting work done regardless of the environmental and technological hurdles, and keeping the faith amidst an atmosphere of trepidation.
In 2020, Marketers entered uncharted territory
Remote working is so ubiquitous now that it's hard to imagine a world where people worked in an office every day. In April this year, Screendragon conducted an industry wide survey to find out how marketers were adapting to the 'new normal'. In a survey of more than 100 marketers, more than half revealed that they usually worked between 4-5 days per week in the office. In addition to that, more than 30% admitted they had never worked from home before at all!
In a sudden sweep of rapid change in March, most marketers were told to grab their things from the office, set up a new workplace at home, and find a new way to work without any time to prepare.
Marketers adapting well to change
With the abrupt nature of the change in circumstances, marketing and creative teams could have been forgiven for struggling to keep the show on the road. Our Ways of Working report showed that marketers were far more resilient though! Productivity, deadlines, and accountability were all maintained during very testing times.
When asked about meeting timelines, the reliability of the marketers' work ethic shone through. Almost 93% were still meeting deadlines since going remote which would suggest that marketers feel obligated to get their work done, regardless of whether they're being supervised or working from home! This ownership and accountability also resonated when 88% said they were at least as accountable as normal for their work when based remotely.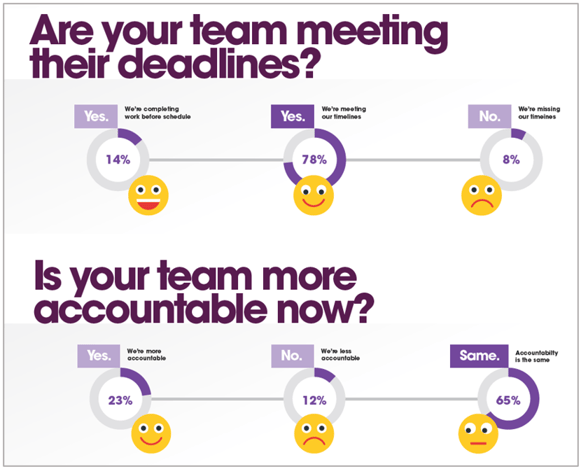 I think it's clear from the above that marketers can be trusted to get the job done and are adaptable beings. Our recent creative industry survey 'The State of Creative Operations in 2020' showed that the creative pool within marketing went one step further when adjusting to the shift towards remote work. When asked how they found the transition to working from home, almost 50% said it was 'easy'!!
As time progresses, we may need to ask the question if working from home is more advantageous to an organization as well as the employee. Work is still being done (and on time) while marketers are also experiencing mental health benefits too. Half of those surveyed revealed their mood improved since going remote (and that's during a global pandemic). Have marketers, and especially creatives, inadvertently changed the goalposts for work environments?
Remote working here to stay?
So how likely is it that the shift to remote work will be permanent rather than temporary? Marketers have shown they can get their work done irrespective of where they're based and have largely enjoyed the change in scene. Will we ever return to a five-day week in the office? The numbers would suggest no. Marketers would like the opportunity to work from home regularly and 85% of them want to work remotely at least once a week. Could a hybrid office worker develop as a result wherein there is a rotated schedule of two days in the office and three days at home? This could satisfy both parties and could maintain the social and cultural aspect of working in the same room as colleagues.
Creatives seem to be more predisposed to working remotely and many of them thrive in their own space. In the State of Creative Operations in 2020, 37% of creative leaders said that they expect their creative team to have the option to work remotely full-time after the pandemic and 'Increased options for remote working.' was listed #2 in the most common expectations for creatives for 2021.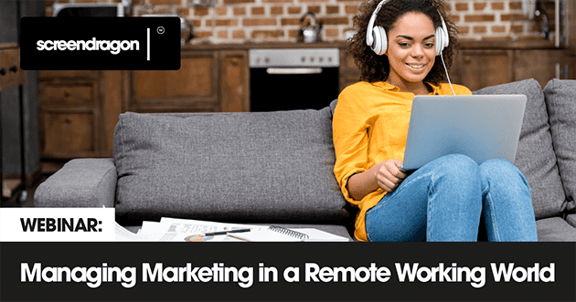 What tools are needed now?
Among many things that marketers and creatives have learned this year is that you need the right tools to do your job effectively. It came as no surprise that virtually every marketer is now using video conferencing and IM tools (it is the year that Zoom became a verb after all!) but what other tools do we need to get things done?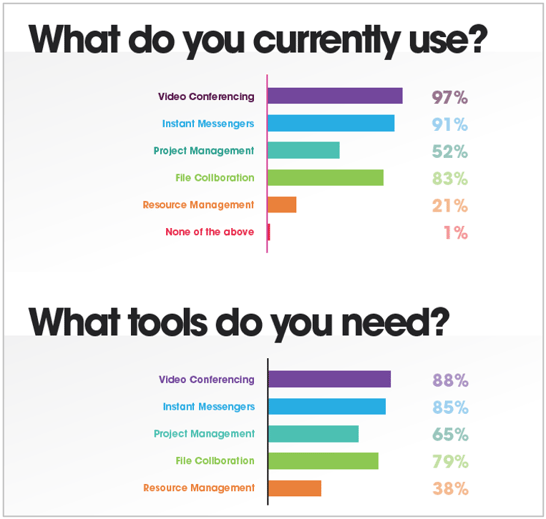 A common thread among marketers in the Ways of Working survey and creatives in The State of Creative Operations is that communication is very consistent across teams but it does not necessarily transmit into collaboration. Marketers identified collaboration as their #1 challenge even though they are communicating as much, and sometimes more, than they were previously. We need to be able to communicate effectively to truly collaborate. Creative leaders have also found 'collaborating and brainstorming with team members' to be the most challenging aspect of remote working.
The power of bringing people into a room to troubleshoot, or a quick 5-minute desk chat to clarify something, are very difficult experiences to replace. This puts even more pressure on tools and technologies, and this is evident in both reports. Two thirds of marketers said they needed marketing project management software to work effectively while creative leaders rely on project management software the most for managing creative projects. This is further explained by creative leaders identifying 'Greater reliance on technology for collaboration and process automation' as the #1 prediction for 2021.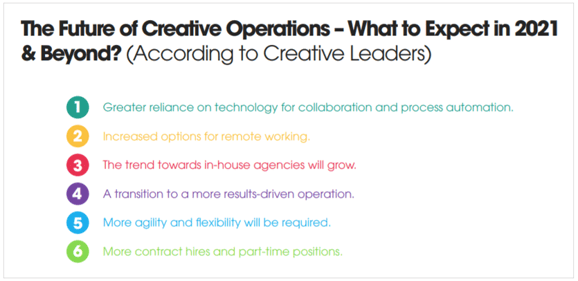 The Outlook for 2020-2021
Marketing and creative teams can grow
Although the economic climate is gloomy and the focus on marketers and creatives is intense, the outlook for our industry is far from bleak. More than a third of creative leaders said they expect their creative team to grow in 2020-2021. That's a lot of companies hiring marketing and creative talent! It's also clear that marketers have shown their worth this year more than ever. When the chips were down, marketers stood up and kept things moving. In uncertain times it's more important than ever to project a strong brand and source new business. The marketing and creative team will play a fundamental role in this.
Remote working for marketers and creatives is here to stay
It's clear that marketers and creatives would like remote working to be a part of their role into the future. As mentioned earlier, more than 85% want to work from home at least once a week going forward, while 37% of creative leaders said that they expect their creative team to have the option to work remotely full-time after the pandemic. Many long-held assumptions and perceptions of remote working have been blow out of the water in 2020 and that could be a good thing for both employer and employee!
Marketing and creative teams pulling together
When marketing and creative teams were asked to work from home, they pulled together while staying apart. Almost half of marketers are communicating more with colleagues now than they were prior to the pandemic, while 41% of creatives said they have met more regularly since transitioning to remote working. Could 2021 be the year of real collaboration? The year that marketing and creative teams used technology to become closer than ever?
Screendragon Remote Working Solutions
Screendragon is an all-in-one work management solution that is used by marketing and creative teams across the globe. From teams of 50 to 5,000, Screendragon provides a single cloud-based software solution to manage work from any location. Screendragon enables borderless working by supporting remote workers and teams to plan, schedule and complete work in an easy and accessible way.
If you'd like to learn more about Screendragon then why not schedule a 30-minute demo with a solutions expert?