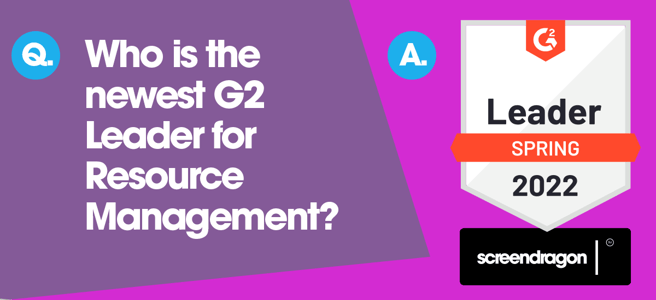 Welcome to our G2 explainer blog for Screendragon. There have been several G2 achievements and accolades received over the last couple of years, so we felt it was time we summarized our accomplishments and recent awards in a live blog!
Read on to see what solution areas our product has performed highly in, how we achieved our rankings and awards, and what this means in simple terms.
Latest News (Spring Release 2022)
Index
4. See why Screendragon outperform the competition on G2
---
Latest News
G2 Spring Release - April 2022
Screendragon's collection of G2 awards has grown further with the addition of two new badges in G2's Spring Release 2022! In addition to earlier awards for support, client management, meeting requirements, and setup, we're delighted to be named as a leader in the Resource Management category while we also received two more badges of excellence for 'Best Usability' and 'Easiest Admin'. This is in addition to cementing our place as the #1 Professional Services Automation software for enterprise!
Resource Management - Leader
The core principle of work management is the practice of managing time better. Resource Management software at a basic level helps teams plan their time, schedule work, find vacant time slots, and assign jobs to staff. Screendragon's resource management functionality automates resource scheduling, utilization tracking, pipeline, and capacity planning and much more. All resourcing activities are monitored and accessible in a series of visual dashboards, analytics, and reports.
In G2's latest release, Screendragon was named a leader for Resource Management. If you'd like to see why our customers rate us so highly in resource management then why not schedule a 30-minute tour of our software below?
Professional Services Automation - #1 for Enterprise
We're proud to have received awards for our capabilities in work management, marketing resource management, and resource management, but our performance in the professional services automation category is taking pride of place right now.
Among our professional services customers are a host of global agency networks such as McCann World Group, Landor & Fitch, Arc Worldwide and Interbrand as well as many fast growing small agencies . Agencies use Screendragon's cloud-based agency management solution to create new ways to increase collaboration, productivity and compliance while decreasing silos, duplication of efforts and costs. As of today, Screendragon is ranked #1 among Professional Services Automation vendors in the enterprise space!
Best Usability
Screendragon is a wide-ranging work management tool with a lengthy list of features, but our best-in-class development team keep user experience and customer success at the heart of everything we do. This means that Screendragon is a tool that can be learned and used effectively by anyone (not just project managers!) as it is simple in design while being sophisticated in performance.
Our latest award for 'Best Usability' is based on Screendragon's performance in customer satisfaction, meeting requirements, and user adoption. We believe this badge is proof that there's a big difference between making a simple product versus making a product simple!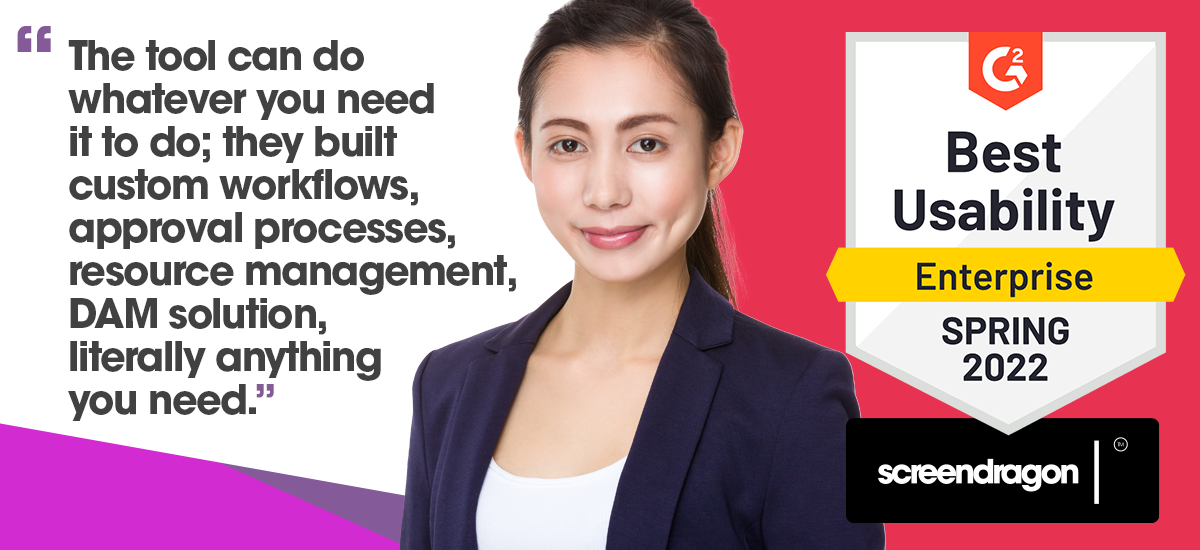 Easiest Admin
Screendragon has been built from the ground up to be configurable and cater for different ways of working that exist between businesses. Practically every aspect of the platform can be managed using web-based admin tools. This flexibility and intuitiveness will excite project managers and admins as much as CMOs and creatives!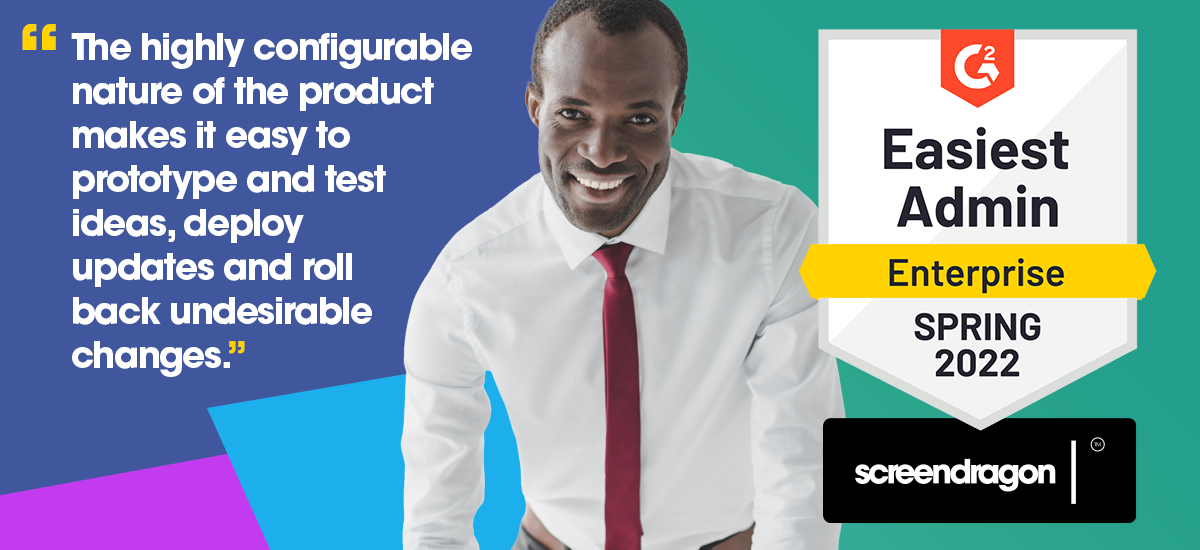 ---
1. Introduction to G2
1a. Who are G2?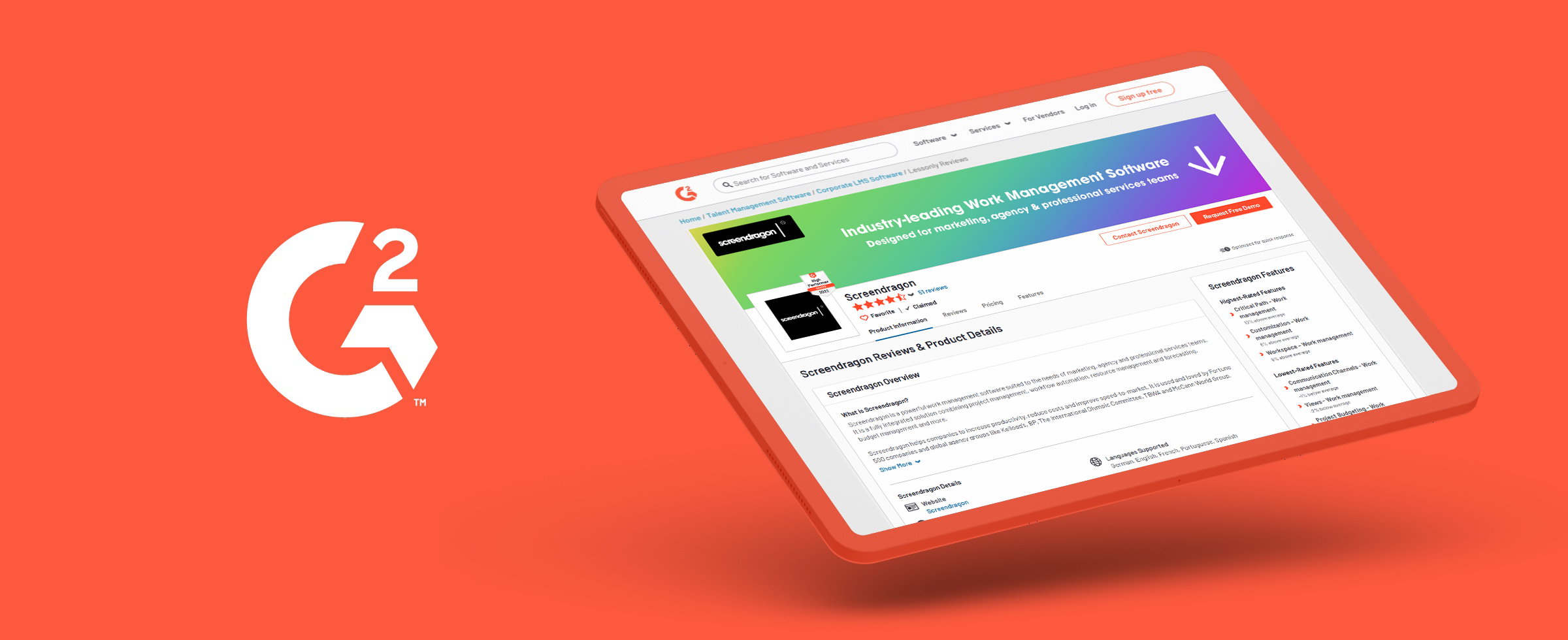 G2 is a peer review website that scores software products and vendors based on reviews gathered via the G2 user online community, in addition to data aggregated from online sources and social networks. Buyers trust G2 as vendor reviews are unfiltered, unbiased, and every review and reviewer is validated by G2.
1b. What vendors feature on G2?
Any vendor can feature on G2 but only the leading players in the industry feature in G2 grids, reports, and awards. Screendragon features in several highly competitive solution categories on G2; Work Management, Resource Management, Marketing Resource Management, Digital Asset Management, Online Proofing, and Professional Services Automation. Some of these categories have over 100 vendors competing so it's important to stand out from the crowd!
1c. How are vendors ranked on G2?
G2 use a comprehensive list of scoring methodologies across usability, satisfaction, relationship, implementation, and product suite. Those vendors that score highly in these categories can obtain high performer awards (see 2a) and badges of excellence (see 2b). G2's market presence ranking is not influenced by review performance and is based on criterion such as employee headcount, social presence among others.
2. G2 Awards & Badges
2a. G2 High Performer Categories
Screendragon are proud to have received High Performer awards in all of the following categories. Our website does not exaggerate when we proclaim to be an 'end-to-end' work management and creative operations solution!
Work Management
G2's work management category focuses on gains in productivity, collaboration, resource optimization, and remote work management. Screendragon's automated workflows, AI assisted resourcing and forecasting, and advanced budget management help companies to increase productivity, reduce costs and improve speed-to-market! Our functionality spans in-depth workflow customization, with intelligent form structures and tasks, to a robust reporting module and easy to use administrative tools.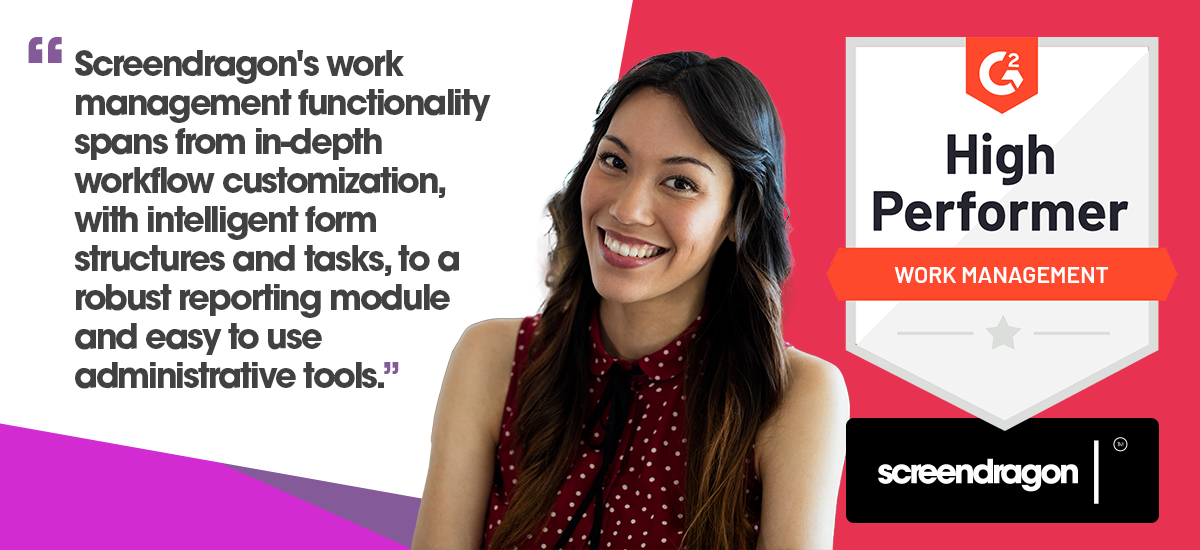 Marketing Resource Management
Screendragon's resource management module is fully integrated with our marketing project management software so marketing leaders get a complete up-to-date helicopter view of what their team is working on and what the timelines are. Screendragon's heatmap capacity view offers managers insight into opportunities for new work and constraints for upcoming projects.
Resource Management
G2 describes resource management as 'software that tracks, schedules, and optimizes human and material resources required for project management'. Screendragon's resource management functionalities are wide-ranging and help teams from a variety of backgrounds meet their goals. Screendragon's resourcing capabilities that prove most popular are the real time resource calendar, drag 'n' drop scheduling, AI assisted talent profile utilization, and pipeline and capacity planning.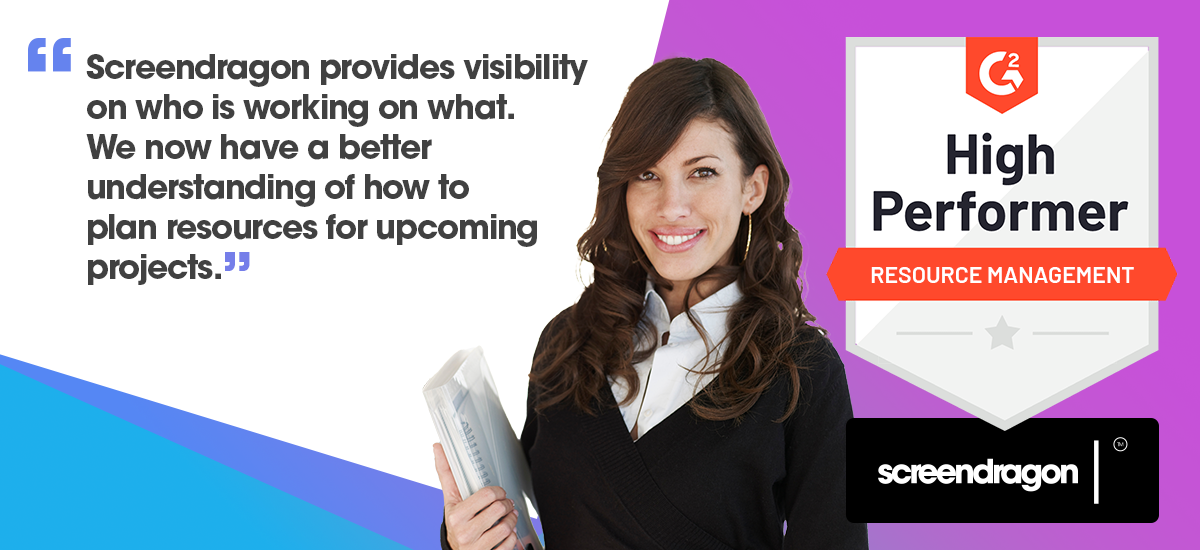 Digital Asset Management
While Screendragon may not have all the features of a traditional DAM vendor, it does possess all of the key capabilities that most customers need to store, share, tag and organize digital assets. It's powerful DAM functionality is used by clients to create brand libraries, use meta tagging, build training knowledge bases, and share content with colleagues and partners.
Professional Services Automation
It's vitally important that professional services teams prevent projects running over time or they will inevitably over-service clients or miss key deadlines. Screendragon's budget management offers professional estimates so your company can accurately bill and estimate for clients. Scopes can be integrated into pipeline planning to forecast revenues and resourcing requirements so that you always know if a project is feasible (or financially viable). The real-time budget summary shows actuals vs estimates, timesheets, and whatever additional custom financial data your professional services team needs.
2b. G2 Badges of Excellence
While G2 'High Performer' awards focus on product performance and accomplishment, badges of excellence are awarded for top class service and implementation. You have read why our product is so highly rated, it's now time to see why our team is world class!
Best Meets Requirements / Easiest to do Business With
Screendragon offers a vast array of capabilities (see our High Performer awards) which means we tick all the boxes for most buyers. While Screendragon is a flexible product with powerful configuration capabilities, we never expect prospects or clients to work things out for themselves. Each client is assigned a solution expert whose primary role is to listen to the client's needs and ensure that Screendragon fits perfectly for your business.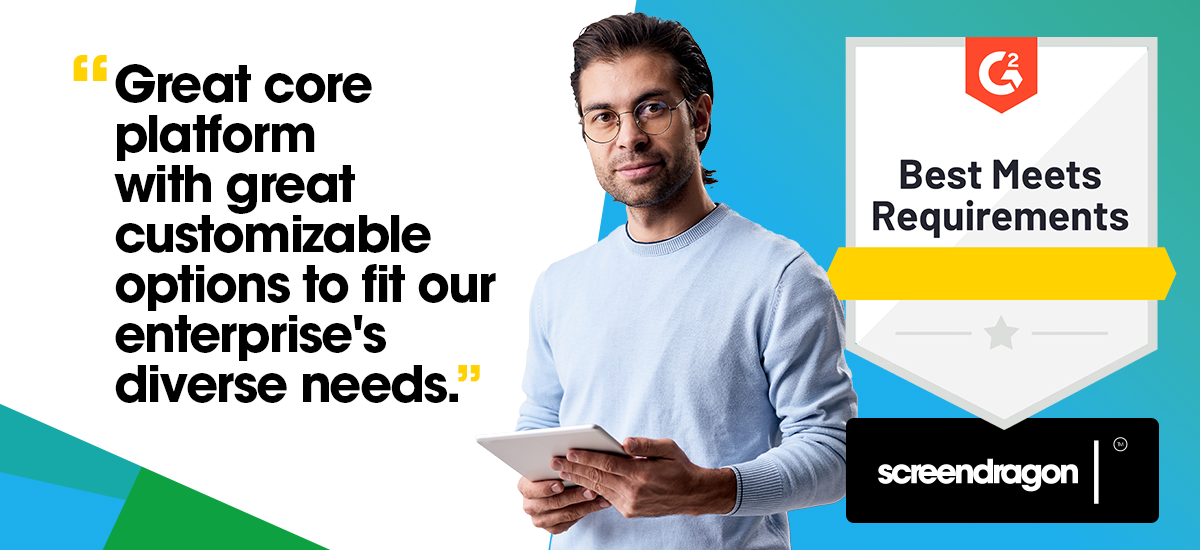 Best Support
Screendragon is a unique player in the work and creative management segment as most of our staff are customer service focused. We have a dedicated team of project managers, business consultants, and configuration specialists that work with clients on a regular basis to maximize the value of Screendragon and optimize its performance. If you ever encounter a roadblock within the system (and we'd like to think you won't!) you will not have to wait in line or go through red tape to reach our support team. We are on hand when you need us.
Best Relationship
At Screendragon, we put immense value on customer support (see our award above!). When clients choose to work with Screendragon it is the beginning of a prosperous relationship for both parties, in contrast to the seductive sell and swerve philosophy of some companies. Our greatest asset in Screendragon is our people and this resonates strongly in client feedback. We go to the nth degree to make sure our solution works brilliantly for your company, and as a result, our clients tend to put great trust and value in our service.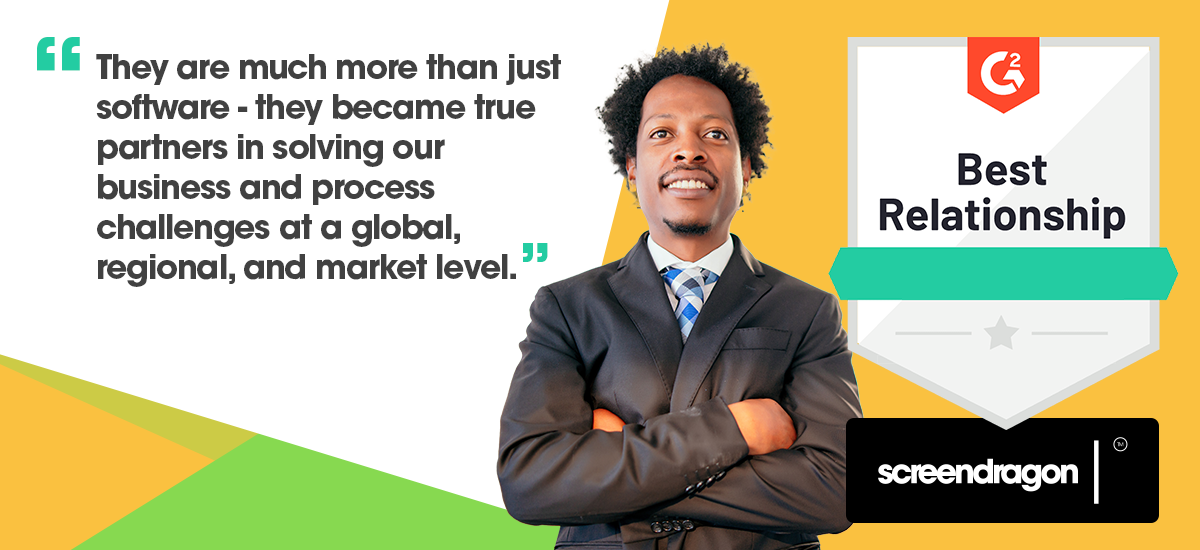 Easiest Setup
Adoption rates are greatly affected by onboarding time and user experience. As outlined in our awards for 'Best Support' and 'Easiest to do Business With' we guarantee a smooth transition for new clients. Our implementation competencies are not exclusive to our highly acclaimed solutions experts though, our product is built to be fit for purpose which means adoption time is quick and implementation is pain-free. Our user-friendly UI and agile software are very intuitive, so it never takes long to start seeing the benefits of the system!
Users Love Us & Most Likely To Recommend
Based on everything we said above, it might be clearer why more and more companies are choosing Screendragon to manage their work and creative operations. Our passion for design, client first approach, easy implementation, and cutting-edge technology are transforming operations at Fortune 500 companies and Global Agencies and our clients love us for it!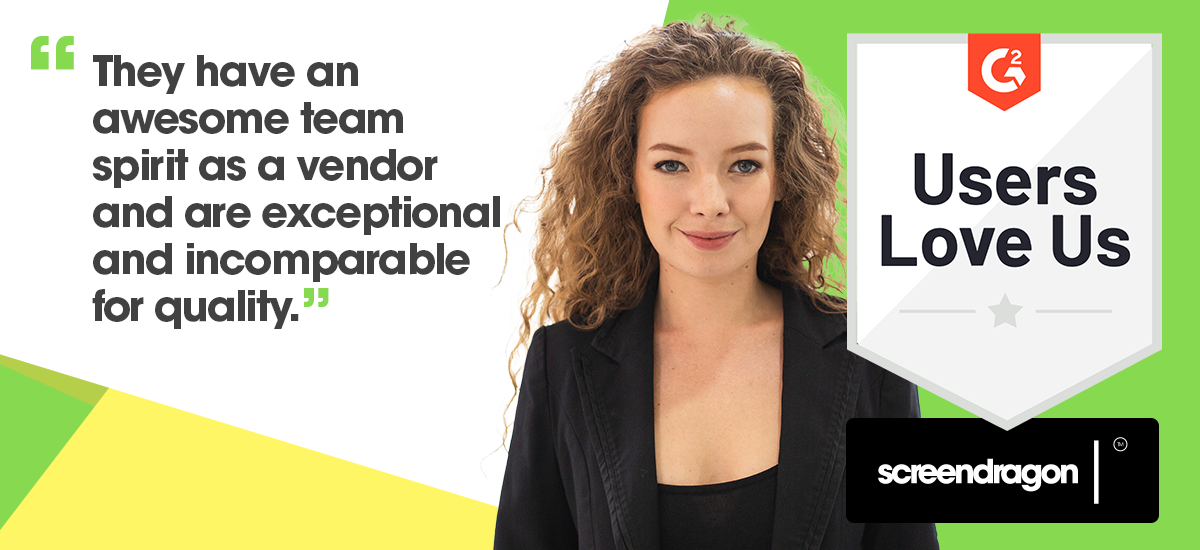 2c. G2 Top 50
We're delighted to reveal that Screendragon is now ranked among the Top 50 software products in the Project Management and Content Management categories on G2! Considering there are 110,000 software products reviewed on G2 we are proud to feature at #25 for Project Management and #36 for Content Management.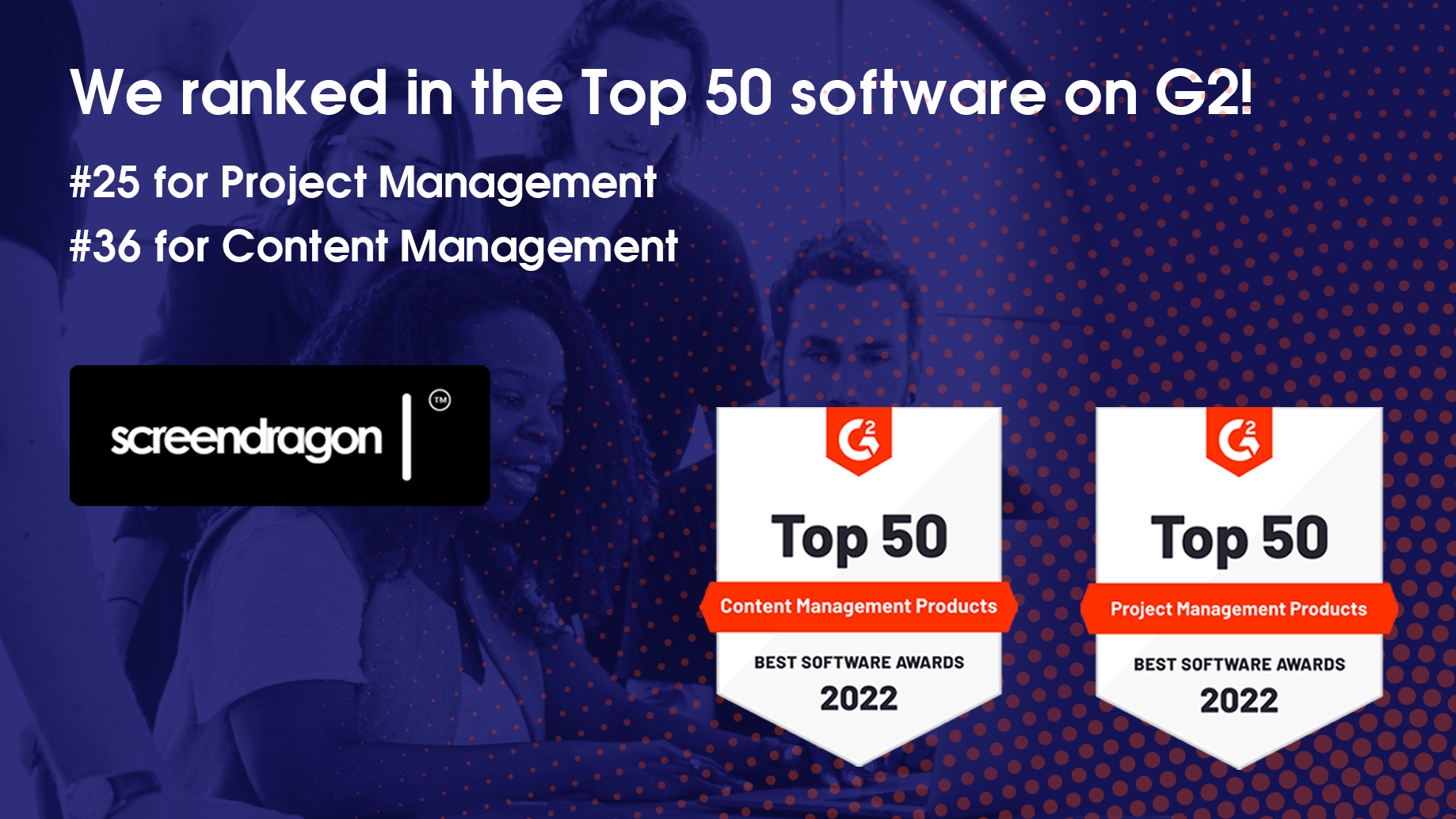 Thank you to our customers and partners that have helped us fly up the rankings - it's onwards and upwards for Screendragon!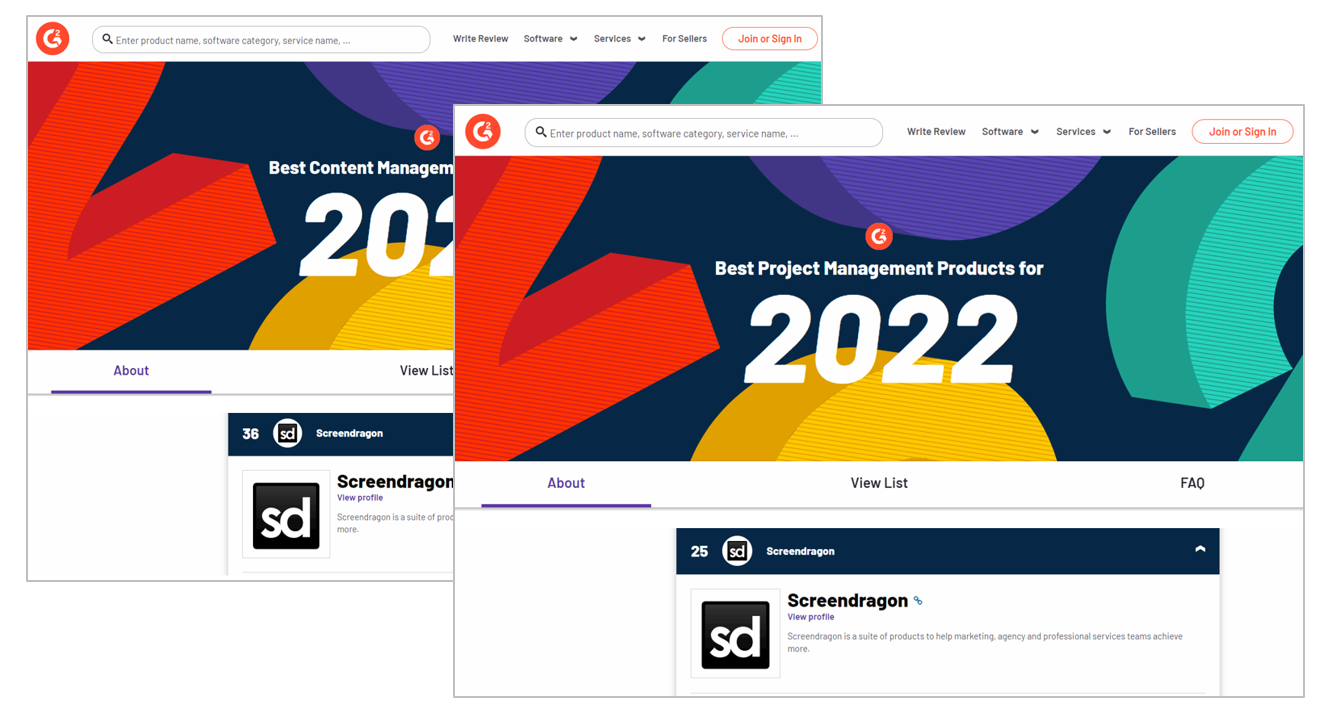 ---
3. G2 Vendor Comparison Report
We have effused Screendragon's capabilities in our awards and badges summary above - but how do we stack up against the competition? Our G2 comparison report compares the top players in the industry across key product and service indicators. You can download it for free below!

---
4. See why Screendragon outperform the competition on G2
We hope you've seen enough to justify learning more about Screendragon. If you want to see why our product scores so highly on G2 and other review websites then why not see the real thing in action? You can schedule a short product introduction with one of our solution experts below. Tell us what you're interested in seeing or what you need and we'll show you how Screendragon is a perfect fit!